Don't skip on scheduled immunizations
Children's health
Health and wellness
Immunization
Immunizations not only protect your child, but other people in the community .
Because of medical advances, children are protected against more diseases than ever. Some diseases that were once feared, such as polio, have been eliminated or are close to elimination.
Vaccines are only distributed after lengthy, conscientious review by researchers, physicians and other health care professionals. Vaccines are only administered after they have been proven safe and effective.
Immunizations not only protect your child, but other people in the community – and even future generations. Getting your child immunized not only prevents him or her from contracting the disease, but keeps him or her from accidentally passing the disease along to another child who may be too young, have an allergy or a weakened immune system that prevents the child from receiving the vaccine. Having a large population vaccinated against a particular disease reduces the pool of people susceptible to that disease. Over time, the disease can be eradicated. We see this today in smallpox. While previous generations received a smallpox vaccine, children today do not, because there is no longer evidence this disease is being transmitted.
Finally, immunizations are required by many day-care centers and schools. It is more beneficial to vaccinate your child than to pay for an extended stay in the hospital or medicine required because your child contracts the disease.
If you have forgotten what vaccines your child has received, your doctor can guide you through the process and get you back on schedule. A chart of the recommended vaccination timeline is shown below (or may be downloaded as a PDF).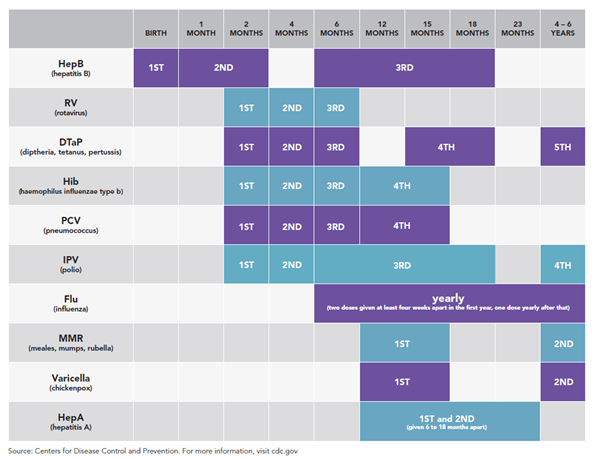 Watch a video about the importance of getting your children immunized from the CDC.
---
Sources:
"How to safely go to your doctor during the COVID-19 pandemic." Mayoclinic.org, Mayo Clinic, 11 June, 2020.
"Five important reasons to vaccinate your child." Vaccines.gov, U.S. Department of Health and Human Services, January 2018.
"Why immunize?" cdc.gov, Centers for Disease Control and Prevention, 12 July, 2018.