Well-child visits help keep children healthier
Immunization
Children's health
Your child's doctor can use these visits to help you identify developmental milestones in your child.
As a parent, you want your child to be healthy and develop normally. That is why well-child doctor visits are so important, particularly the in first 15 months of life. Your child's doctor can help identify developmental milestones in your child's physical, mental, language and social skills.
The first well-child visit should be two or three days after coming home from the hospital. Your baby needs to see the doctor six times during the first year – at one, two, four, six and nine months, then at 12 and 15 months.
Immunizations (also called shots or vaccines) are important to help protect your child from serious diseases. Getting all the shots recommended by age two will help protect your child from 14 serious childhood diseases that can be dangerous or even deadly.
GEHA medical plans cover routine well-child visits and vaccinations at 100%.
For the best protection, your child needs all doses of all vaccines in the recommended schedule. From birth through 15 months, the scheduled vaccines are for diphtheria, tetanus, whooping cough, influenza, polio, pneumococcal, rotavirus, measles, mumps, rubella, chickenpox and hepatitis A and B.
Protection for your family, friends and community
The bacteria and germs that cause childhood diseases are still around. In our mobile society, we can easily be around others who come from areas around the world where serious diseases are prevalent. Vaccinations help prevent the spread of those diseases. It helps protects others in your community too – like your neighbor who has cancer and cannot get certain vaccines, or your best friend's newborn baby who is too young to be fully immunized. Each child who isn't vaccinated can spread those germs to others who are unvaccinated.
If you have forgotten what vaccines your child received, your doctor can guide you through the process and get you back on schedule. A chart of the recommended vaccination timeline is shown below (or may be downloaded as a PDF).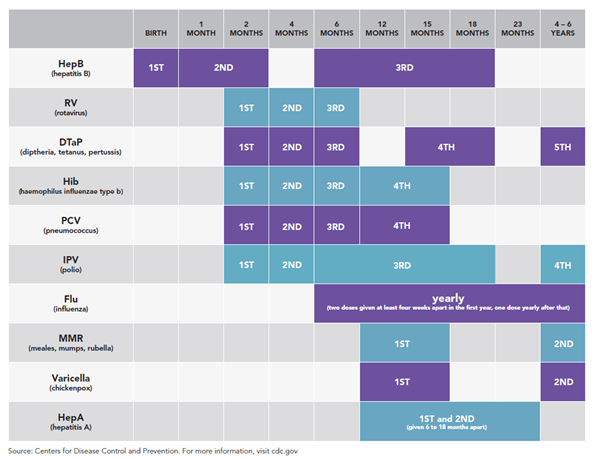 Watch a video about the importance of getting your children immunized from the CDC.
---
Sources:
"Well child visits." medlineplus.gov, National Institutes of Health, 6 March, 2019.
"Why well child visits matter." chop.edu, Children's Hospital of Philadelphia, 28 May, 2020.
"Get Your Child's Shots on Schedule." healthfinder.gov, U.S. Department of Health and Human Services, 15 October 2020.